The Environment: The Green Lab is located on the Chicago Campus of Northwestern University Feinberg School of Medicine. The lab itself comprises ~1800 square feet of state-of-the-art research space on the 3rd floor of the 16-story Tarry Research and Education Building. Facilities and resources are excellent both in the laboratory and in common core facilities available to all lab members. The laboratory itself is well-funded. The Medical School environment is stimulating and interactive with a variety of departmental, interdepartmental and campus-wide lecture series and interest groups occurring on a daily basis. Strong interdepartmental graduate programs ensure that there is a dynamic and outstanding Ph.D. student population.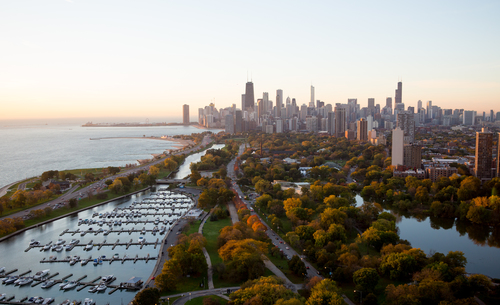 The Chicago campus is located on four blocks between Lake Michigan and the the "Magnificent Mile", a famous stretch of Michigan Avenue that includes the Water Tower, Water Tower Place, 900 N. Michigan Ave (housing Bloomingdales) and much, much more. Just across the street from the Campus are local city tennis courts, an outdoor track and baseball field. Other athletic facilities available include a gym, indoor track, swimming pool, squash and racquetball courts. Culturally, Chicago has it all! Whatever your interest, whether it is music, art, architecture, theater, or sports, you will find it here. Last but not least, great restaurants in every price range can be found in abundance on every block in the surrounding neighborhood. Public transportation and housing opportunities are excellent.
A. Predoctoral Training: Opportunities for graduate study in the Green lab are available through the Driskill Graduate Program (DGP) in Life Sciences. This interdepartmental program which began on the Chicago Campus in 1991 was instituted in response to the increasingly interdisciplinary nature of biomedical research. Students matriculate as a group into the program, and are able to choose from 100's of research faculty for training toward the Ph.D. degree. The DGP is also one of the three major programs in which Medical Scientist Training Program (MSTP) students (M.D.-Ph.D. program) carry out their Ph.D. training. First year DGP and MSTP students interested in rotating in the Green Lab are encouraged to contact Dr. Green by E-mail for more information. Also feel free to attend our lab meetings or journal clubs. Refer to the "Green Lab Schedule" for meeting times.
B. Postdoctoral Training: The Green lab provides opportunities for Ph.D.'s and M.D./Ph.D.'s seeking advanced postdoctoral training. M.D. resident and fellow training in basic research is also available. Independence is encouraged and nurtured, and trainees are provided opportunities and guidance towards the development of an independent research program. If you want to learn more about postdoctoral training send CV, names of three references and a description of research interests and career goals to Kathleen J. Green, Ph.D., Northwestern U. Med. Sch., Dept. Pathology W127, 303 E. Chicago Ave. Chicago, IL, 60611 or contact me by E-mail.
C. Technical Positions: Those interested in entry or senior level technical positions are encouraged to contact me directly by E-mail. Applicants should be able to work both independently and as a team player. Opportunities for advancement are excellent. Even if you have already applied through NU Human Resources, if you are interested in our lab, attach your resume and a short paragraph introducing yourself and stating your goals.