Meet the Lab team members. We welcome requests for information about our work and collaboration opportunities.
Principal Investigator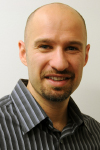 Research Staff
Veronika Butin-Israeli, PhD
v-butin-israeli( at )northwestern.edu
Research Assistant Professor in Pathology
View Northwestern University Feinberg School of Medicine faculty profile
Research Interest: I am studying how immune cells and inflammation affect the nuclear architecture of epithelial cells inducing genomic instability and chromatin remodeling leading to carcinogenesis. My research efforts are focused on three aspects of DNA repair and chromatin biology affected by inflammation including: replicative stress and replication fork stalling, error-prone repair of doubles strand breaks (DSB) and reprogramming of the gene expression profile. Defects in these mechanisms result in genomic instability that underline the main causes of malignancies, such as breast and colorectal cancer, promote oncogenic activation and depletion of tumor suppressor genes, and facilitate metastasis-associated Epithelial Mesenchymal Transition (EMT). My research on the role nuclear envelope proteins play in the regulation of replicative senescence, gene expression, and DNA repair, I developed elegant molecular biology, cytogenetic, and immunohistological methods to investigate in vivo interactions between damaged or newly synthesized DNA with protein mediators. These methodology are used in our lab to explore DNA damage responses initiated by chronic inflammation and detect deformities of nuclear architecture mediating instability leading to carcinogenesis.
Fun Fact: I am a mother of two, vegan, gluten-free, and can fix a weaponized army car and Hummer. According to my son, I am proud of my children and students, and I am a nerd.
Graduate Students
Triet Bui
Research Interest: I am an international student from Vietnam. I came to the US during my high school years and recently graduated with three bachelor degrees in Chemistry, Biochemistry and Mathematics. I have had my research experiences at Washington University, Yale, and Harvard where I participated in diverse aspects of science, from bioinformatics to reproductive science to crystallography. At the moment, I am pursuing my PhD at Northwestern and conduct my thesis in Sumagin lab. My research interest lies at the interface of cancer biology and immunology, which is beautifully reflected through my projects at Sumagin lab where I take a deep look at the effects of neutrophil infiltration and unresolved inflammation on tumor heterogeneity, genomic instability, and metastasis.
Fun Fact: I'm a multifaceted person. I am known by people as a scientist, a martial artist, a band guitarist, a soccer team captain, and a former breakdancer. Currently, I'm training for my Chinese Kungfu tournament that will occur in Vegas this summer.
Technical Staff
Hannah Wiesolek
hannah.wiesolek( at )northwestern.edu
Research Technologist I
Research Interest: I am interested in what causes inflammatory murine macrophages to perform efferocytosis related to ICAM-1 expression and whether it is due to signaling or adhesion binding.
Fun Fact: I spent a semester in Guam where I swam in a fresh water cave and jumped off of a 20 foot waterfall.
Undergraduate Students
Olivia Ballentine
OliviaBallentine2021( at )u.northwestern.edu
Northwestern University '21

Research Interest: My research interest is IBD and the immune response in the GI tract.
Fun Fact: I go to a different concert once a month.
Joseph Lee
JosephLee2018( at )u.northwestern.edu
Undergraduate Research Assistant
Northwestern University '18

Research Interest: My research project focuses on the expression of ICAM-1 by inflammatory macrophages-specifically, the role that ICAM-1 plays in the macrophage's ability to perform efferocytosis, whether it be through contributing to a signaling pathway, or through direct, physical binding to a target apoptotic cell
Fun Fact: I speak Spanish, sing in an a cappella group and enjoy playing squash in my free time.
Diana Mahlis
dmahlis( at )luc.edu
Loyola University Chicago '20

Fun Fact: I traveled with my high school orchestra to Cuba and we had to stay in the air for over an hour before landing because Barack Obama's plane was landing around the same time as ours.
Meredith Zhou
MeredithZhou2019( at )u.northwestern.edu
Undergraduate Research Assistant
Northwestern University '19

Research Interest: I am interested in examining how PMN (neutrophil) infiltration in colorectal cancer tumors impacts TP53 exonal deletions. My current project looks at which exons of the TP53 gene are most prone to deletion, and whether these exonal deletions occur early or late in tumor development.
Fun Fact: In 7th grade, one of my teachers took us on a field trip to her farm so we could watch her cow give birth.
Alumni
Ariel Finkielsztein, PhD
Research Associate in Pathology
Northwestern University '17 -'18

Steven Gu
Undergraduate Research Assistant
Northwestern University '17

Lorraine Mascarenhas
Research Technologist I
Northwestern University '15 -'17

Lindsey Mehl
Undergraduate Research Assistant
Northwestern University '15 -'16

Thomas Slater
Undergraduate Research Assistant
Northwestern University '16