Our Mission
The main focus of our laboratory is developing a better understanding of how key mutations in gliomas alter their biological characteristics, and how best to exploit specific weaknesses that such mutations often impart. In particular, our laboratory focuses on mutant isocitrate dehydrogenase 1 (mutIDH1), which is present in the vast majority of WHO grade II and III gliomas. This mutation exerts profound effects on the epigenome and metabolome, yet produces tumors that are markedly less aggressive. Our work indicates that mutIDH1 also dramatically alters the glioma's micro-environmental landscape by preventing the thrombosis-necrosis phenomenon that is characteristic of IDH1 wild-type gliomas. We are currently exploring the mechanisms by which this occurs, as it will have major implications for understanding why mutIDH1 gliomas are less aggressive, how to make wtIDH1 gliomas behave more like mutIDH1 gliomas, and the potential consequences of anti-mutIDH1 therapy.
Dr. Horbinski is also the Director of the Nervous System Tumor Bank (NSTB) for the Northwestern Brain Tumor Institute (NBTI). The NSTB provides all NBTI researchers with patient-derived biospecimens and neuropathological support. This includes snap-frozen and paraffin-embedded tissues, microscopy imaging and digital analysis, immunohistochemistry, and in situ hybridization. Additionally, we perform full histologic processing and neuropathologic analysis of animal model tissues.
Currently, the NSTB supports over 40 brain tumor projects by over 20 investigators within and outside Northwestern University.
Together with the excellent outstanding clinicians and researchers in the NBTI, we aim to improve the quality of life and therapy options available for brain tumor patients.
News / Events
Dr. Horbinski made the Feinberg School of Medicine News with his recent co-authored paper published in Nature.
Dr. Dusten Unruh, our stellar postdoctoral fellow, received an excellent 16th percentile score on his NCI F32 proposal. This is well within the projected 2017-2018 payline, so he's in great shape. Congratulations to Dusten on achieving a tremendous milestone! 
The Horbinski Laboratory has just been awarded an R01 from the National Institute of Neurological Disorders and Stroke, titled "Tissue Factor as a Key Determinant of IDH1 Mutant versus IDH1 Wild-type Glioma Thrombosis and Malignancy." Thanks to everyone in the lab for their tremendous efforts in making this happen!
The May issue of Neurology features the research of Craig Horbinski, MD/PhD titled 'Mutant IDH1 and seizures in patients with glioma', an image from which will be included on the cover. 
Dr. Horbinski has been named to the Canine Glioma Consortium in the NCI's Comparative Oncology Program. This group, composed of human and veterinary neuropathologists, is working on developing a new classification system for gliomas in dogs, similar to the World Health Organization scheme for human gliomas.
Craig Horbinski, MD/PhD is part of a collaborative research team that has found a molecule that stops the growth of an aggressive pediatric brain tumor. Their findings are featured in the Northwestern Medicine News, and Nature Medicine has an advanced online publication of their research.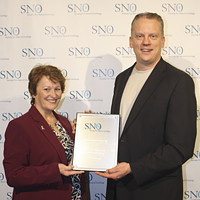 Craig Horbinski, MD/PhD won an award from the Sontag Foundation at the 2016 SNO Conference for his presentation titled "Mutant IDH1 promotes tumor-associated epilepsy in glioma patients". Shown in the photo is Carolyn Loch, from the Sontag Foundation presenting the award to Craig Horbinski.
An image from the research of Craig Horbinski, MD/PhD is featured on the cover of Cancer Research, showing the tumor microenvironment in glioblastoma and identifies tumor-infiltrating macrophages as a source of CCL2.
The Horbinski Lab has received a generous gift from The Carlos G. Baldoceda Memorial Fund (Carlos' Fund). Carlos' Fund is dedicated to supporting young persons with a passion for music and to raising awareness and money to eradicate brain tumors.