Our Mission
Our laboratory's mission is to improve the care of patients with gliomas. These tumors cause the greatest aggregate loss of life, because they can strike at any age and are largely incurable. We are also pursuing research in meningiomas, another type of brain tumor that does not have any effective chemotherapy options.
Our Nervous System Tumor Bank (NSTB) provides all NBTI researchers with patient-derived biospecimens and neuropathological support. This includes snap-frozen and paraffin-embedded tissues, microscopy imaging and digital analysis, immunohistochemistry, and in situ hybridization. Additionally, we perform full histologic processing and neuropathologic analysis of animal model tissues. To date, the NSTB has supported over 80 active and completed brain tumor projects by over 20 investigators within and outside Northwestern University.
Both in our own laboratory, and by providing other research labs with high-quality biospecimens from brain tumor patients, we are advancing the understanding and treatment of brain tumors.
News / Events
The Horbinski lab recently won the Weil Award for Best Experimental Neuropathology at the 2022 American Association of Neuropathology Annual Meeting, for their project titled "Preclinical and Clinical Characteristics of Seizures in IDH Mutant Gliomas." Congratulations on a great team effort!
Glad to announce that Mark Youngblood received funding from the Neurosurgery Research and Education Foundation for his project "Molecular markers of meningioma growth arrest after HDAC inhibition." Congratulations, Mark!
Matt McCord received an NIH F32 for his project on DNA mismatch repair and temozolomide resistance in gliomas. Well done, Matt!
As of July 1, Craig Horbinski became the new Director of PathCore for the entire Robert H. Lurie Comprehensive Cancer Center at Northwestern. Good luck!
The Horbinski lab received a pilot grant from the Charlie Teo Foundation for liquid biopsy-based diagnostics in pediatric brain tumors. Way to go!
Dr. Horbinski is leading a team to study the effects of COVID-19 infection on the brain. This project involves detailed neuropathologic study of the nervous system in the postmortem setting. Hopefully, this will lead to new insights on how SARS-CoV-2 affects the brain.
The Horbinski lab recently received a new NIH R01, titled "Interaction between Tissue Factor, Junctional Adhesion Molecule-A, and Integrin B1 to drive self-renewal in glioblastoma​​." This project, in collaboration with Dr. Justin Lathia's group at the Cleveland Clinic, explores an entirely new mechanism by which glioma cells regrow after treatment.
As of March 1, 2020, Dr. Horbinski became the new Medical Director of Neuropathology at Northwestern.
Michael Drumm, MSTP student, received an excellent score on his NCI F30, titled "Tissue Factor regulation of receptor tyrosine kinases in glioblastoma." Congratulations, Michael!
The Horbinski lab published a study in Acta Neuropathologica Communications, titled "The efficacy of DNA mismatch repair enzyme immunohistochemistry as a screening test for hypermutated gliomas." This study showed that DNA MMR immunohistochemistry is an effective front-line screen for hypermutated gliomas. However, the hypermutation often occurs in only a subset of the recurrent tumor. This could help explain why immunotherapies on such tumors have, to date, been equivocal.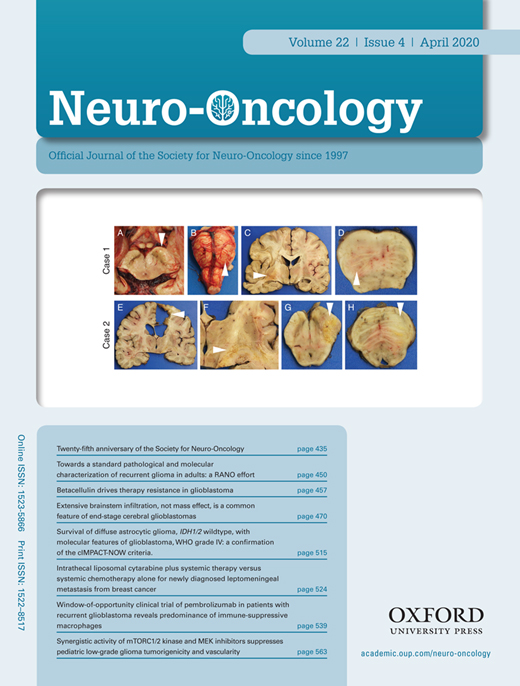 The Horbinski lab published a study in Neuro Oncology, titled "Extensive brainstem infiltration, not mass effect, is a common feature of end-stage cerebral glioblastomas." This is the first systematic study of postmortem glioblastomas (GBMs) since the advent of radiation and temozolomide, and showed that mass effect, herniation, and brainstem compression are no longer common in GBM patients at the end of life. Instead, the tumor spreads from the cerebrum into the brainstem, thereby producing similar clinical symptoms as brainstem herniation. This sheds new light on why GBM patients are dying, why new therapies often haven't worked to extend survival, and new ways of rethinking this disease.
The Horbinski lab published a study in Scientific Reports, titled "Methylation and transcription patterns are distinct in IDH mutant gliomas compared to other IDH mutant cancers." This bioinformatics study, led by postdoc fellow Dr. Dusten Unruh and biostatistician Dr. Denise Scholtens, showed for the first time that the methylation patterns in IDH mutant gliomas is very different from methylation patterns in other major IDH mutant cancers, like acute myeloid leukemia. This could help explain why IDH mutation is a favorable prognostic marker only in gliomas.
Dr. Horbinski made the Feinberg School of Medicine News with his recent co-authored paper published in Nature.
Dr. Dusten Unruh, our stellar postdoctoral fellow, received an excellent 16th percentile score on his NCI F32 proposal. This is well within the projected 2017-2018 payline, so he's in great shape. Congratulations to Dusten on achieving a tremendous milestone! 
The Horbinski Laboratory has just been awarded an R01 from the National Institute of Neurological Disorders and Stroke, titled "Tissue Factor as a Key Determinant of IDH1 Mutant versus IDH1 Wild-type Glioma Thrombosis and Malignancy." Thanks to everyone in the lab for their tremendous efforts in making this happen!
The May issue of Neurology features the research of Craig Horbinski, MD/PhD titled 'Mutant IDH1 and seizures in patients with glioma', an image from which will be included on the cover. 
Dr. Horbinski has been named to the Canine Glioma Consortium in the NCI's Comparative Oncology Program. This group, composed of human and veterinary neuropathologists, is working on developing a new classification system for gliomas in dogs, similar to the World Health Organization scheme for human gliomas.
Craig Horbinski, MD/PhD is part of a collaborative research team that has found a molecule that stops the growth of an aggressive pediatric brain tumor. Their findings are featured in the Northwestern Medicine News, and Nature Medicine has an advanced online publication of their research.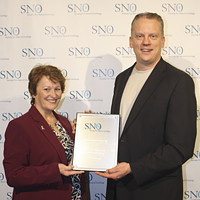 Craig Horbinski, MD/PhD won an award from the Sontag Foundation at the 2016 SNO Conference for his presentation titled "Mutant IDH1 promotes tumor-associated epilepsy in glioma patients". Shown in the photo is Carolyn Loch, from the Sontag Foundation presenting the award to Craig Horbinski.
An image from the research of Craig Horbinski, MD/PhD is featured on the cover of Cancer Research, showing the tumor microenvironment in glioblastoma and identifies tumor-infiltrating macrophages as a source of CCL2.
The Horbinski Lab has received a generous gift from The Carlos G. Baldoceda Memorial Fund (Carlos' Fund). Carlos' Fund is dedicated to supporting young persons with a passion for music and to raising awareness and money to eradicate brain tumors.