Meet the Lab team members. We welcome requests for information about our work and collaboration opportunities.
Principal Investigator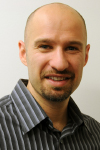 Research Staff
Veronika Butin-Israeli, PhD
v-butin-israeli( at )northwestern.edu
Research Assistant Professor in Pathology
View Northwestern University Feinberg School of Medicine faculty profile
Research Interest: I am studying how immune cells and inflammation affect the nuclear architecture of epithelial cells inducing genomic instability and chromatin remodeling leading to carcinogenesis. My research efforts are focused on three aspects of DNA repair and chromatin biology affected by inflammation including: replicative stress and replication fork stalling, error-prone repair of doubles strand breaks (DSB) and reprogramming of the gene expression profile. Defects in these mechanisms result in genomic instability that underline the main causes of malignancies, such as breast and colorectal cancer, promote oncogenic activation and depletion of tumor suppressor genes, and facilitate metastasis-associated Epithelial Mesenchymal Transition (EMT). My research on the role nuclear envelope proteins play in the regulation of replicative senescence, gene expression, and DNA repair, I developed elegant molecular biology, cytogenetic, and immunohistological methods to investigate in vivo interactions between damaged or newly synthesized DNA with protein mediators. These methodology are used in our lab to explore DNA damage responses initiated by chronic inflammation and detect deformities of nuclear architecture mediating instability leading to carcinogenesis.
Fun Fact: I am a mother of two, vegan, gluten-free, and can fix a weaponized army car and Hummer. According to my son, I am proud of my children and students, and I am a nerd.
Ariel Finkielsztein, PhD
ari( at )northwestern.edu
Research Associate in Pathology
Research Interest: I am generally fascinated by every aspect of Biology. My present interest, however, is focused on understanding how immune cells regulate epithelial homeostasis in a highly dynamic tissue such as the gut epithelium, under normal and disease conditions. To that aim, I am conducting research to investigate how macrophages regulate neutrophil migration through epithelia in the gut, either in response to innate signals or to microbiota. My long-term goal is to understand the biological mechanisms of inflammation to help solve or treat inflammatory diseases afflicting humans.
Fun Fact: 1. I "survived" raising two teens, I can play piano, make origami frogs, speak four languages and pretend to speak many more ! 2. My favorite quotes are: "You never fail until you stop trying", and "Learn from yesterday, live for today, hope for tomorrow. The important thing is not to stop questioning". (Albert Einstein)
Graduate Students
Triet Bui
Research Interest: I am an international student from Vietnam. I came to the US during my high school years and recently graduated with three bachelor degrees in Chemistry, Biochemistry and Mathematics. I have had my research experiences at Washington University, Yale, and Harvard where I participated in diverse aspects of science, from bioinformatics to reproductive science to crystallography. At the moment, I am pursuing my PhD at Northwestern and conduct my thesis in Sumagin lab. My research interest lies at the interface of cancer biology and immunology, which is beautifully reflected through my projects at Sumagin lab where I take a deep look at the effects of neutrophil infiltration and unresolved inflammation on tumor heterogeneity, genomic instability, and metastasis.
Fun Fact: I'm a multifaceted person. I am known by people as a scientist, a martial artist, a band guitarist, a soccer team captain, and a former breakdancer. Currently, I'm training for my Chinese Kungfu tournament that will occur in Vegas this summer.
Technical Staff
Lorraine Mascarenhas
lorraine.mascarenhas( at )northwestern.edu
Research Technologist I
Research Interest: I am interested in the role of innate immune cells in intestinal inflammation and injury induced by dextran sodium sulfate.
Fun Fact: I have a one-eyed cat and a bearded dragon. I also love to play the piano.
Alumni
Steven Gu
StevenGu2018( at )u.northwestern.edu
Research Interest: I am largely interested in the inflammatory response in relation to the nonspecific immune response throughout the body. Currently, I hope to be able to contribute to research illuminating how chronic inflammatory diseases develop through studying the interaction of epithelial linings with monocytes and PMNs.
Fun Fact: I love snowboarding during the winter. I'm also a huge fan of breakfast and brunch food. Eggs Benedict is my favorite.
Lindsey Mehl
LindseyMehl2017( at )u.northwestern.edu
Undergraduate Research Assistant
Research Interest: My research project aims to identify the role of miRNAs in targeting Lamin B1 transcript and Lamin B1 expression in instances of acute inflammation.
Fun Fact: My ultimate goal in life is to learn as many languages as possible and my spirit animal would be a penguin. Additionally, my role model in the scientific community is Rita Levi-Montalcini.
Thomas Slater
Undergraduate Research Assistant
Northwestern University '16