For Medical Examiners, Pathologists, and Coroner's Offices
Join Our Network
We are interested in having you join our network.  We have established a clear process for you to identify cases of sudden unexplained death.
For a summary, download our brochure here.
Frequently Asked Questions
How am I making a difference?
You may help families receive further clinical and genetic screening and you contribute to research on Sudden Unexplained Death Syndrome. 
Does this cost anything for the medical examiner's office or the family?
There is no cost to your office to participate in this collaboration. We will send you pre-paid mailing kits. Kits contain purple-top EDTA sample tubes for post-mortem blood collection. We will provide a FedEx container to ship the sample back to us.
The research component is supported through NIH funds and other funding sources. Clinical testing can be coordinated through the family's insurance or primary care physician.
What criteria need to be met for referrals?
Download our simple referral form to use during autopsy.
What are the advantages for you?
We can help you gather the appropriate samples. 
We can advise you on primary and alternate strategies for obtaining viable samples.
We can help you guide the family to appropriate clinical follow-up. 
You participate in our research collaboration, which may eventually improve our understanding of risk in families after sudden death.
What do I need to do?
Please collect 10 mL of blood in a purple-top EDTA tube and refrigerate the sample.  Call us at 312-227-2525 or email us at Gregory Webster, MD, MPH and we can help you with the next steps.  This is our workflow for genetic testing and family contact: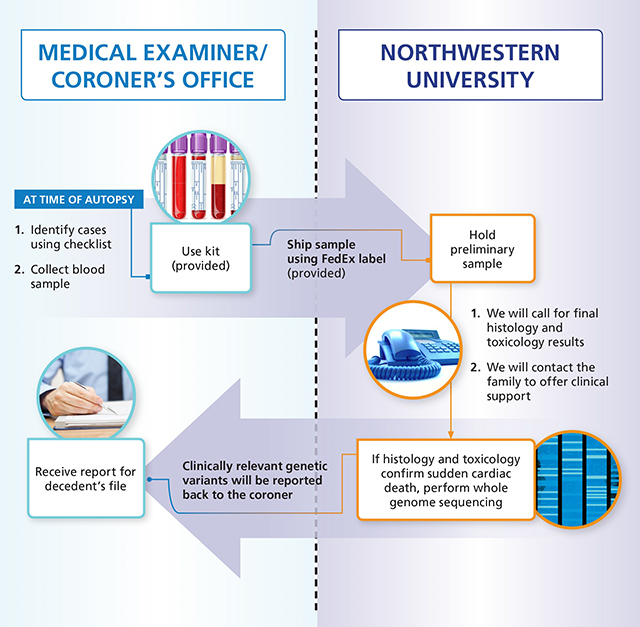 For Families
We want to assist families while advancing research. We will ask for permission to contact the family in order to explain current guidelines for clinical follow-up after a sudden cardiac death episode (Priori et al. Heart Rhythm 2013). We will also help connect the family with a local clinician, if possible.  We will obtain informed consent from families prior to using any clinical information for research.